Design: propeller, turbine, screw, aerial, marine, turbine, tidal, wind, kaplan, foil, wings, 3D. Discover heliciel software:
SCREW PROPELLER
Screw propeller's calculation methods
benefited a decisive step forward, when the functioning of the blades was compared
with rotating wings
. The calculation of the relative velocities and induced, due to rotation, combined with the advance of the fluid is essential to define the
twist of the propeller blades
. The prediction of performance such as power, lift and torque,relies on mathematical practical tools you will find here (in part) gathered:
The aircraft screw propellers
,
ships propellers
,
fans or ventilations
are propulsion type propellers. The blades using the motor torque to accelerate the fluid and generate thrust by reaction. see:(
change of momentum
).
Capture energy systems like wind turbines
, and
tidal turbines or axial turbines
use the torque generated on their blades to drive
generators
or
pumps machines
.
The geometric pitch and effective pitch

calculation methods
predict performance,
efficiency and the shape of blade profiles
. HELICIEL

is a calculation software
all public (because a simple knowledge of basic mechanics, force, torque, power output is sufficient ...) Allowing
calculation of screw propellers
,
turbine helices calculation
, and
calculation of the wings or hydrofoils
.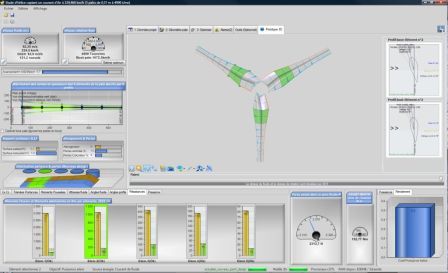 Heliciel allows the use of
profiles
whose performance and
forms are stored in a database
, to
produce a 3D model
. The
geometric shape of the blades
, the
number of blades and the rotational speed
can be tested to evaluate thrust, torque and efficiency of
screw propeller, turbine or wing3D model
. .
A drawing of blades and profiles
can then be edited in 2D or
3D (IGS)
.