Modeling screw propeller in heliciel software
Tutorial design a boat propeller (5)
We saw in the previous tutorial, (
Tutorial design a boat propeller (4),
how to choose and apply a profile to a propeller.. We will see how to determine the geometry and quickly analyze the overall performance of our propeller.
Our optimum profile naca 64a410 was applied, But the performance profile to 460 rev / min, no longer correspond to our specifications:
Cruising speed: 3 knots
Thrust required 105 newtons
Power available to the propeller shaft: 192 watts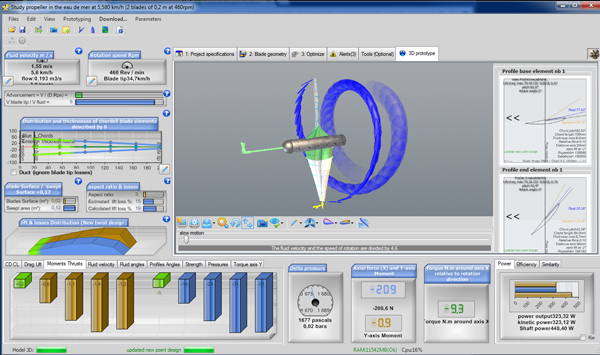 We could test speeds of rotation to adjust our power, as we have done previously, but we will use a more powerful tool: "
the multiple analysis
" that will give us a vision of the evolution of the performance of our propeller, according to a curves for rotation speeds::
To display the interface of multiple analysis click on "multiple analysis" in the bar Heliciel 'tools.(or use the button "multiple analysis"in the tab 3:Optimize):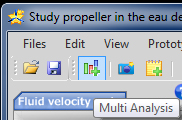 set the parameter varying onr "Rotation speed rpm" and the range of 100 to 300 rpm with 11 points. The method of calculating the point must be on "Refreshing twist" for the software updates the optimum twist, each point of the curve.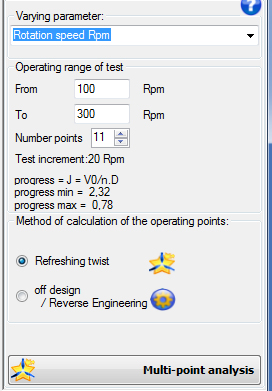 select the tab "compare" and check the Thrust curve, shaft power, propulsive efficiency and Launch "Multi-point analysis":

The comparative curves show that the propulsion efficiency is optimum for a rotation speed 160 revolutions per minute, the thrust of 105 newtons will be obtained at 300 revolutions per minutes and that to this rotation speed 300 revolutions per minute, la puissance a l'arbre sera de 200 watts pour un rendement de 0.8
With this tutorial, we flew over the various means and tools that provides Héliciel to achieve a propeller according to specifications. You are now ready to create your custom propeller for all your projects...